InkSupply.com R800/R1800 Pigment Ink
(Epson HiGloss Compatible)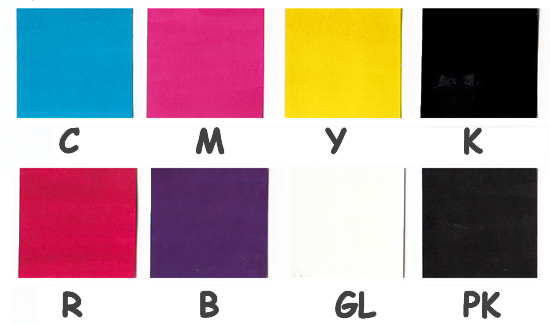 *InkSupply.com HiGloss Compatible Formulation Ink Swabs*
Ground Breaking Formulation With New Blue And Red Inks For The Perfect Professional Print
The Epson Stylus Photo R800-R1800 use a unique InkSupply.com UltraChrome 8 ink set containing Blue, Red, Photo Black, Matte Black, Cyan, Magenta, Yellow inks as well as a Gloss Optimizer. These printers produces fabulous glossy color photo prints. We now offer R800, R1800 Archival Pigment inksets in 2 oz, 4 oz, pint, and gallon quantities. Our Epson R800 and R1800 bulk ink is formulated specifically for this particular printhead that contains the first 1.5 picoliter ink droplet size. This also means that our inks are pigmented with a 100 year fade resistance, with no profiling necessary. This ink set is compatible with glossy, semi gloss and matte paper finishes without having to switch the black ink cartridges. As with all InkSupply.com Inks, our Epson HiGloss Compatible Ink is proudly manufactured in the US to the highest quality specifications available.
The Benefits of InkSupply.com Epson HiGloss Compatible Ink:
Lower Gloss than OEM to prevent prints from being "Too Shiny".
The Dmax on the Matte Black (Eboni) is very high, over 1.70.
Decreased dry time.
Superior flow through on continuous-feed systems.
Greater resistance to water.
No flushing or purging is required for desktop printers when switching to MIS HiGloss Compatible Ink from Epson brand ink.
| | | | |
| --- | --- | --- | --- |
| | | Bulk R800/R1800 UC Compatible Pigment Inks | |