InkSupply.com 1200 1st Generation Dyebased Ink
(Epson Photo Dyebased Compatible)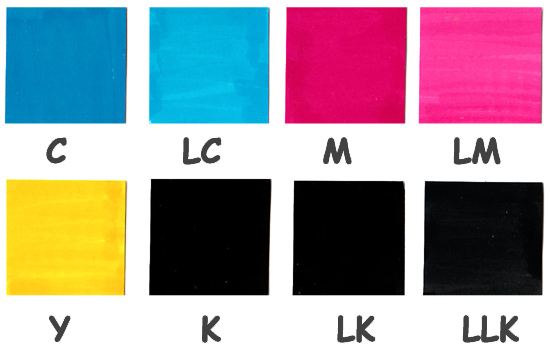 *InkSupply.com Dyebased Formulation Ink Swabs*
InkSupply.com Epson Equivalent Dyebased Ink
These inks are designed to be a drop in replacement for the ink Epson uses in their cartridges. They are dye based waterfast inks made specifically for the printers listed. Each ink has been adjusted for viscosity, drying time, color balance, and surface tension. These inks are fully compatible with all Epson dyebased printers. The InkSupply.com Dyebased inks are equivalent to the Epson inks in every way, except a correction has been made to InkSupply.com Dyebased Ink. This due to a missing component from the cyan ink that makes the Epson inks shift toward orange in the presence of ozone. The correction solves this problem in the InkSupply.com ink. THESE ARE NOT ARCHIVAL INKS. They are ordinary dyebased inks using better dye that is slightly more fade resistant than the older Epson inks. Consequently, these inks will eventually fade like the older dyebased inks will. Despite the fact that the amount of improvement in the fade resistance is minimal, Epson refers to these inks as lightfast. Because they call them lightfast, we also use the word on our website, but it can be misleading. All of the lightfast characteristics come from the Epson paper, specifically the HW Matte and the Premium Glossy. Supporting this, Wilhelm says they have a permanence of 26 years and 10 years respectively. To be clear, we have not verified these claims formally other than limited window testing and exposure in our UV chamber. On papers other than the ones Epson claims are archival or fade resistant, there is no guarantee on how long the ink-paper combinations will last when exposed to sunlight or UV radiation. We are not making any claims or guarantees about the InkSupply.com Dyebased inks other than Epson's claims with their special papers. Additionally, we have tested Epson 2000P ink/paper side by side with our Perpetual Archival and Exact Match Archival inks, using our new enhanced yellow. The result was that our inks outlasted the Epson inks by about 5%. These tests were conducted in simulated Miami sunlight using an Atlas Weather-O-Meter.
The Benefits of InkSupply.com Dyebased Ink:
Superior flow through on continuous-feed systems.
Improved dot gain, color density, and gamut.
Conveniently requires no profiling.
Flushing not required.
No flushing or purging is required for desktop printers when switching to MIS Dyebased Ink.
ESC1200 Dyebased Ink Bottles
��