SK155 Canon CLI8 & PGI5 OEM Chip Resetter
��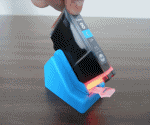 SK155
RESET YOUR OEM CANON CLI8 & PGI5 CARTRIDGES


The NEW SK155 will reset the Original chip from any CLI8 or PGI5 Canon cartridge. These cartridges are used in most Pixma printers.
Unlike most of the CLI8 and PGI5 chip resetters on the market today, the SK155 uses inexpensive watch type batteries and does not need to plug into the wall. This makes the SK155 portable, and easier to use than other resetters on the market today. Resetting a cartridge is as easy as connecting the cartridge to the device and waiting for the solid red light. Note: The SK155 will NOT work with aftermarket chips. If you wish to use aftermarket cartridges, you will need to install original chips on them before using the SK155 chip resetter.
For Canon Original Cartridges