InkSupply.com K4 Archival Pigment Ink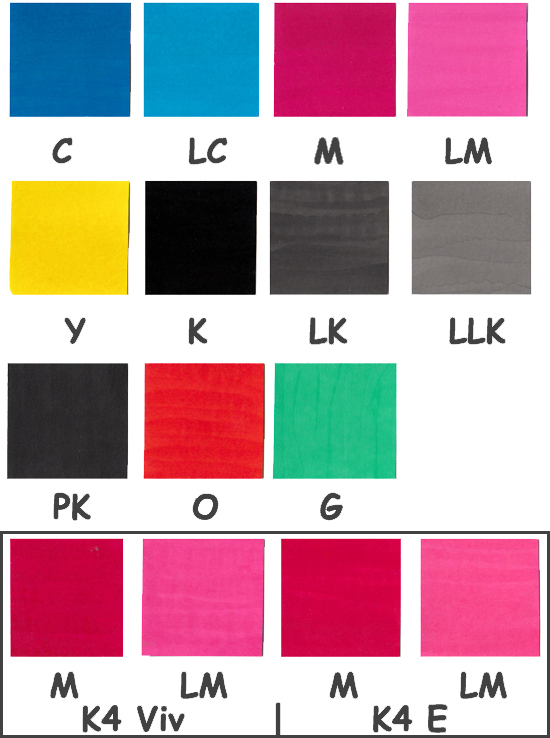 *InkSupply.com K4 Formulation Ink Swabs*
Equivalent Ink Without Distracting Shine - Now With Vivid and Enhanced Magentas
The Inksupply.com K4 Ultrachrome Equivalent inks are a direct replacement for the Epson K3 Ultrachrome inks. Compared to our earlier Ultrachrome equivalent inks, K4 features the widest color gamut available, excellent light fastness, vivid - stable colors, and intense saturation. They have been extensively tested and scientifically formulated to provide longevity, durability and water-resistance. The high quality of the K4 inks makes them perfect for posters, banners, murals, indoor and outdoor displays, art prints and photographs. They are specifically intended for professional use by photographers and artists when producing high-end graphics, advertising, archival and fine art prints with Epson printers. The increased quality of the k4 ink helps professionals create superior prints when compared to other inks. These inks are designed to work on matte finish paper, semi-gloss or glossy papers. It provides a more realistic looking print by eliminating the distracting shine characteristic of other inks. The Inksupply.com K4 ink sets have 9 inks; 4 black (matte, photo, light black, light-light black) and 5 color (CMYLcLm). Additionally, the light-light black makes the 2400, 4800, 7800 and 9800 printers excellent for making black and white prints. Lastly, the K4 ink set is now available with a compatible Vivid Magenta for selected Epson printers. The new compatible Vivid Magenta is able to produce a spectacular cornucopia of dazzling blues, reds, and purples. As with all InkSupply.com Inks, K4 is proudly manufactured in the US to the highest quality specifications available.
The Benefits of InkSupply.com K4 Ink:
Fully compatible with Epson inks, both desktop and wide-format. Flushing not required.
Higher ink limits can be achieved, resulting in increased gamut on most coated media.
Elimination of gloss-differential (colors and blacks have the same reflectivity).
Additional light-light black for making black and white prints.
Improved dot gain, color density, and gamut over Epson inks.
Superior flow-through on continuous-feed systems.
Greater resistance to water and better durability.
Higher gloss and reflectivity, less bronzing.
Decreased dry time.
Pigment Encapsulation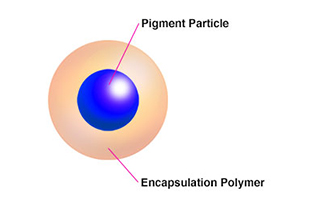 No flushing or purging is required for desktop or wide format printers when switching to K4 Ink. However, on wide format printers, printing a sufficient number of solid squares of each color is required to fill the delivery tubes between the cartridges and the print head.


Note 1: To avoid confusion with the different black inks, pay attention to the final letters on the part number. K = Matte Eboni Black, MK = Universal Matte Black, PK = Photo Black, LK = Light Black, and LLK = Light-Light Black. Our 9 ink inksets comes with Eboni Black (K) and Photo Black (PK). If a different set is needed each ink can be ordered separately.
Note 2: A hybrid Universal Black (MK) is available for those who do not want to change from Matte Black to Photo black (when changing from matte paper to glossy paper). However, the Universal Black has dye in it and therefore, is not as archival as the matte black or photo black inks. Thus, there is a trade-off must be incurred to use the hybrid MK.
Note 3: The New K4 Enhanced Magenta and Light Magenta replace the older K4 Magenta and Light Magenta in the Epson R2400, 4800, 7800 and 9800 printers. These new inks are designed to be used with the OEM Epson profiles and to more accurately match the K3 inks. These new inks are NOT a replacement for the K4 Vivid Magenta and Vivid Light Magenta as these inks already have these improvements added.
Note 4: The K4 Vivid Magenta and K4 Vivid Light Magenta inks are designed to be used in the Epson R2880, 4880, 7880 and 9880. These inks are designed to match the newer K3 Vivid inks to allow customers to use the Epson OEM profiles.