Updated April 8, 2004   
Below are the results of our fade test we ran on the Ultra-Tone inks in April of this year. We exposed one inch squares of pure ink printed on fine art paper in our sun chamber. We used an Atlas Weather-O-Meter to simulate Miami sunlight through window glass at 90F and 60% RH for 600 hours. Each 100 hours is equivalent to approximately 15 years of Wilhelm type testing under florescent light.

We tested on 4 different papers to try to get a feel for sensitivity to paper coatings. You can deduce from the data below the following conclusions...
The Eboni black, Light black and Photo black held up extremely well. The density and shifting that did occur was the result of the paper itself. The inks are rock solid.

The Cool Toner and the Light Cool toner were effected the most. Very little of these inks is actually deposited on a B&W print, so the impact of the data on a real print is minimal. It really is of little concern except for cool prints. Even here, the archivalness is excellent.

The shifting of the black and gray inks is very minimal. This ensures that they will not turn green, brown, or magenta as they age. All black and white prints will warm slightly due to the yellowing of the underlying paper due to the presense of optical brighteners used in the paper manufacturing process.

When looking at this data, remember that a Delta-E of 4.0 or less is barely preceptable to the human eye.

For reference, given the same exposure on EAM, Epson dyebase black faded from 1.80 Dmax to 0.96, and had a 26.5 Delta-E shift. In otherwords, totally useless as an archival print medium.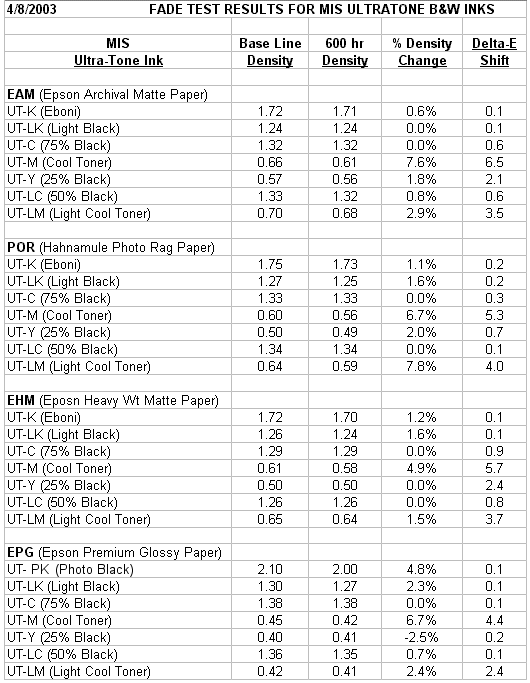 This concludes our experimental phase for these inks. We will now proceed to produce a few more shades to replace the older FS and FSN inks and get them all in cartridges. We will still keep stock on these older inks, but our direction is to offer only Ultra-Tone inks in the near future.

Stay tuned, the B&W technology is starting to move fast.