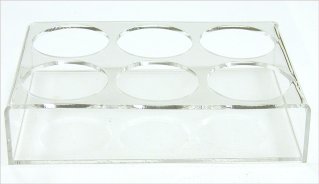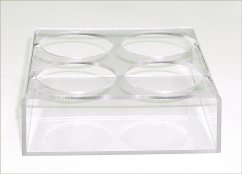 Ink Trays for Continuous Flow Systems Are Being Phased Out
Our newer CFS units do not use ink trays. This idea has been well received by our customers. The bottles are held to the side of the printer by Velcro. The stability provided by the attached tube, and the Velcro is more than sufficient to hold the bottles so they don't spill or get knocked over. This improves that appearance of the CFS installation.

We have stopped manufacturing these trays, and our stock is depeleted. So you will not be receiving an Ink Tray with your system.

Here is how to set up your ink bottles...

Find the ink bottles and the black Velcro Circles. Clean the back of each bottle with alcohol and wipe dry. Attach a Velcro Loop circle to the back of each bottle. Attach the mating Velcro circle to the piece on the bottle. Peal off the backing on the mating Velcro so the adhesive is exposed. Take off the shipping caps and install the drilled caps. Each cap should have a hole in the center and a small vent hole in the Nalgene logo. Make sure the vent hole is there and that it is not blocked or obstructed.

Arrange the bottles as shown above. From front to back they should be in this orderÖ..

Yellow – Light Magenta – Magenta – Light Cyan – Cyan – Black

When you press the exposed Velcro adhesive against the printer, the hook portion will stick to the printer and this becomes the permanent position for the bottle, so choose your bottle positions carefully.

Next, insert the tubes into the bottles. Make sure that you insert 3 Ω to 4 inches (89 to 102 mm) of tube length into the center hole in the bottle cap. This will put the end of the tube on the bottom of the bottle. The tubes should make a nice smooth curve into the bottles. If you have extra tubing, trim the tube length to eliminate this excess. Cut the ends of the tubes on an angle. The tubes must be neat and not to have sags or loops in them.