UltraTone EB4 B&W Inks For Epson WorkForce 1100
For use with ICC Profiles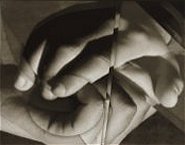 100% Carbon Pigment B&W for the Epson WorkForce 1100
The Epson WorkForce 1100 has become one of the most popular printers for specialty inks due to a low cost and wide format. While the Epson WorkForce 1100 is a 4 color (dual black) printer, the Eboni4 (EB4) inkset converts it into a great entry level 100% Carbon printer. Read more on Paul's website.

This inkset is limited to 100% Carbon based on the our Eboni Black inks. This ink like many Carbon inks is slightly warm in output on most papers, though through paper/profile combinations the total warmth can be controlled.

Profile Library
For those that have not done much of this type of printing in the past, Paul Roark has provided a B&W profile library available for several printer-paper combinations for the EB4 inks. This profile library can be found on Paul's website. This means that armed with Photoshop or Elements, an Epson printer, MIS EB4 Ink, some fine art paper and the profile for it, the average user can make beautiful gallery quality archival B&W prints.

Compatible Printers
At this time the EB4 inks have only been tested on the Epson WorkForce 1100, though testing is underway on the rest of the WorkForce line.
EB4 bulk ink for the Epson WorkForce 1100
The MIS UltraTone ink for these Epson printers is available in 4oz, pint, and gallon bottles. Click on the blue part number links to order.
Click on the blue part number to order.
UltraTone EB4 B&W Cartridges - for Epson WorkForce 1100 Printers
Click on the blue part number to order.