The Cartridge Eliminator
10 Times Less Expensive Than Using Cartridges
Tremendous Savings. Print head draws ink from bottles next to printer.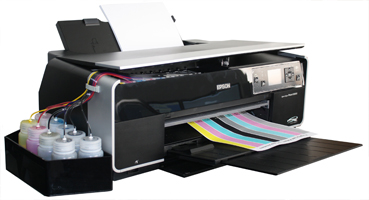 *NEW* SureColor P600 CFS System *NEW*
| | | |
| --- | --- | --- |
| R3000 | R2880 | Artisan 1430 |
| | | |
| 1400 | Work Force 1100 | Workforce 30 / C120 |
| | | |
Lifetime Cartridge Replacement
Click Seal For Details
What is CFS? - The Cartridge Eliminator, or Continuous Flow System, is an attachment for a printer that allows the printer to draw ink from a set of outboard ink bottles to keep the cartridges in the printer full at all times. When installed, the cartridges will never have to be replaced. For every drop of ink that goes out, onto the paper, a new drop comes in from the bottles. The print head, in the printer, has enough suction power to make this happen. It is accomplished by using flexible plastic tubes to connect the ink bottles and the cartridges. When the ink levels get low, just top them off and keep printing. It is used for applications where a large volume of printing is needed without spending a fortune on inkjet cartridges. The typical operating cost of a printer with a Continuous Flow installed, is about 1/10 the normal cost. The printer manufacturers use a similar approach for their wide format printers.
Why use InkSupply? - InkSupply.com has been creating continuous flow systems here in Michigan since 1994. Our systems are handmade in our facility which gives InkSupply complete control over the quality of our systems. One may find many competitors that are resellers of flimsy unreliable imports. Our systems make use of the highest quality components which includes the use of Nalgene bottles, surgical grade tubing and removable fittings. All of these factors extend the life of your CFS system and inks. Check out the video below of our newest creation the R3000 CFS...